Dine-in and Curbside Pickup is Available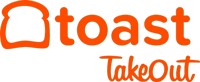 Antipasto Misto  25
Cacciatorini salame, Parma prosciutto, coppa, gorgonzola, taleggio, pecorino Toscano, Castelvetrano olives, artichokes
Carpaccio di Manzo  17
Beef tenderloin carpaccio, Parmigiano Reggiano, capers, lemon, arugula, olive oil
Neapolitan Focaccia  8
Oven fired Italian flatbread, olive oil, Parmigiano Reggiano, Sicilian wild oregano
Arancini  14
Sicilian risotto croquettes, sausage ragu, marinara sauce
Calamari Fritti  16
Fresh squid lightly fried, lemon, marinara sauce
Carciofi alla Giudia  14
Fried Roman artichokes, lemon, garlic aioli
Pepata di Cozze  18
Mussels, garlic, lemon, olive oil, black pepper, parsley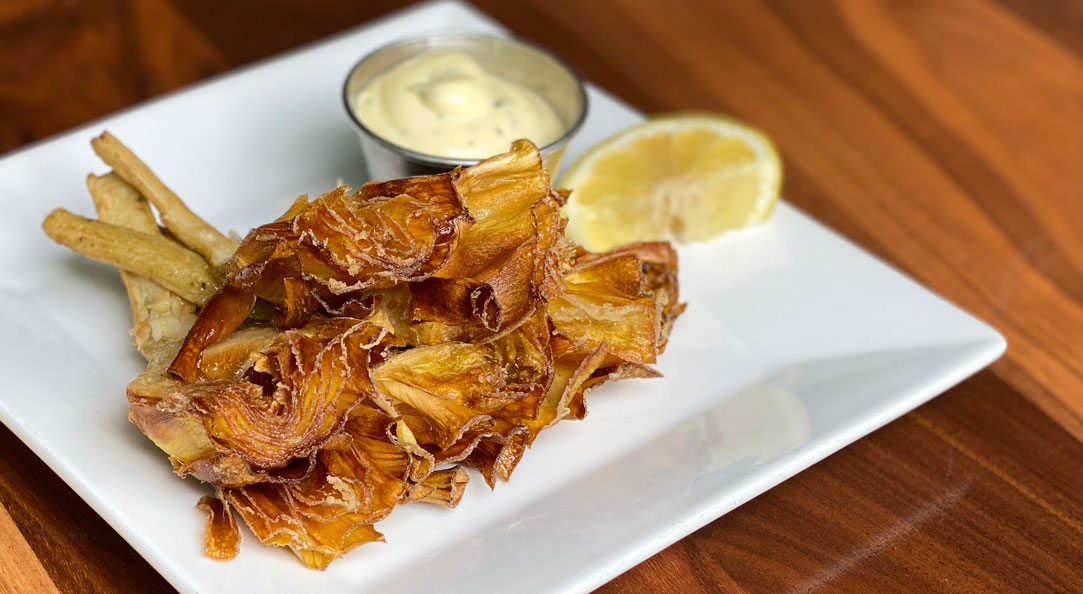 Add free range chicken breast +9
Add wild-caught shrimp +9
Add *Canadian salmon +14
Add certified Black Angus Teres Major steak +20
Caesar  13
Romaine hearts, croutons, Parmigiano Reggiano, Caesar dressing (salads are dressed unless noted)
Caprese  13
Campari tomatoes, mozzarella, basil, olive oil
Caprese con Burrata  15
Artisanal burrata, Campari tomatoes, arugula; lemon vinaigrette (salads are dressed unless noted)
Chef's Insalatona  16
Mixed field lettuce, fresh mozzarella, cotto ham, cacciatorini salame, egg, artichoke, cherry tomato, onions, balsamico, olive oil (salads are dressed unless noted)
Insalata di Pollo  16
Belle and Evans white meat chicken salad, field lettuce, tomatoes, red onions, cucumber, radish, lemon vinaigrette (salads are dressed unless noted)
Mista  12
Mixed field lettuce, onions, tomato, cucumber, radish, balsamico, olive oil (salads are dressed unless noted)
Tonno  17
Sicilian pulled tuna, olive oil, black olives, cherry tomatoes, red onions, cucumber, field greens, lemon olive oil (salads are dressed unless noted)
Robiola Fritta  15
Almond crusted goat cheese, arugula, peppers, garlic, black olives, balsamico, olive oil (salads are dressed unless noted)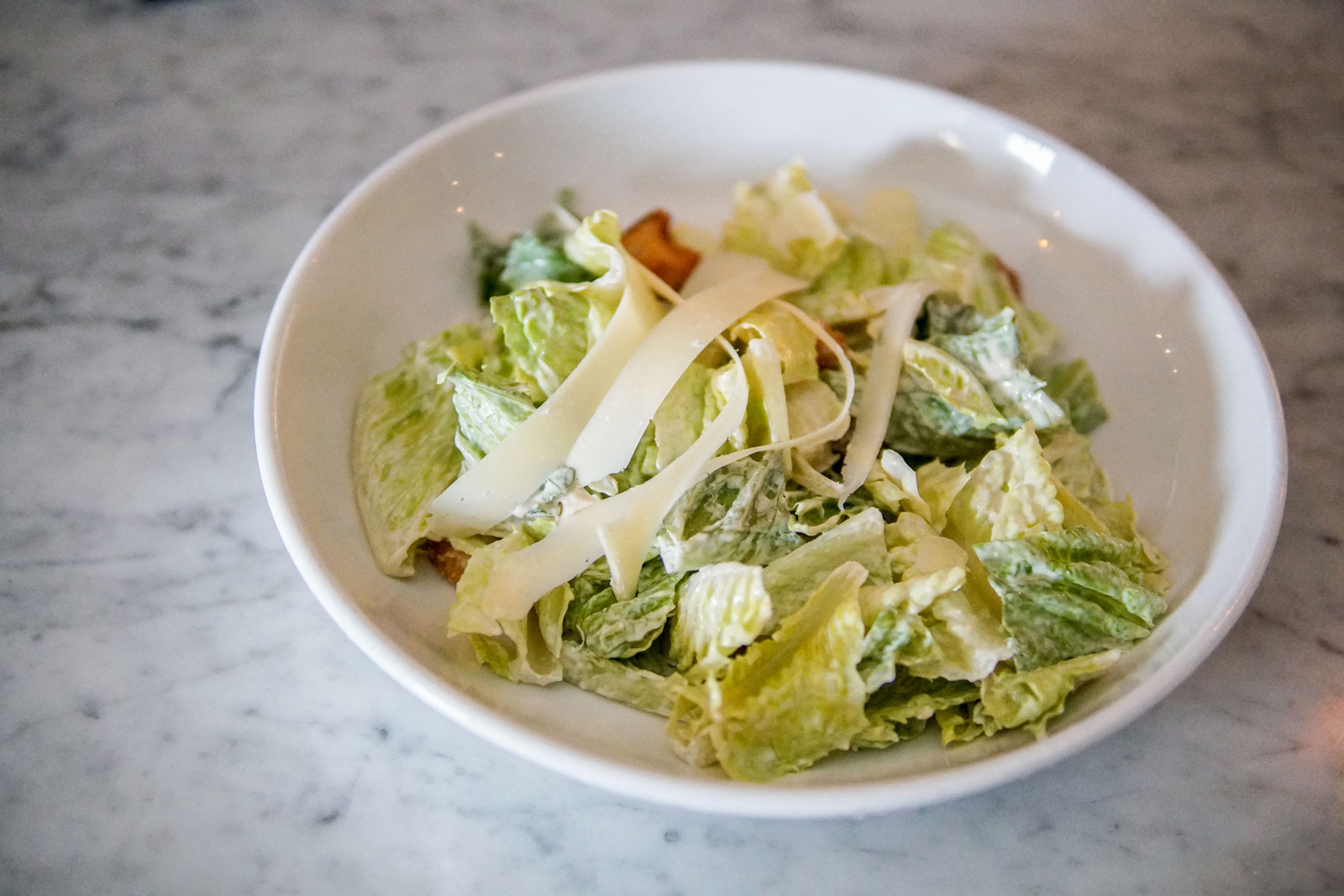 Gluten-free hand made dough is available upon request +4
Calzone  17
Ricotta, mozzarella, spicy soppressata salame, cotto ham
Crudo e Rucola  17
Parma prosciutto, mozzarella, arugula, olive oil; hand-milled tomato sauce
Funghi di Bosco  16
Wild mushrooms, mozzarella, rosemary oil; hand-milled tomato sauce
Maialona  17
Spicy soppressata salame, cotto ham, pancetta, mozzarella, black olives; hand-milled tomato sauce
Margherita  15
Mozzarella, Parmigiano Reggiano, basil, olive oil; hand-milled tomato sauce
Pepperoni e Salsiccia  16
Pepperoni, sweet Italian sausage, mozzarella; hand-milled tomato sauce
Sorrentina  15
Smoked Mozzarella, cherry tomatoes, basil, Parmigiano Reggiano, olive oil; hand-milled tomato sauce
Vegetariana  16
Spinach, peppers, roasted tomato, mushrooms, red onions, mozzarella; hand-milled tomato sauce
Pancetta e Cipolla  16
Caramelized onion, pancetta, mozzarella, hot pepper, hand-milled tomato sauce
Quattro Stagioni  17
Cotto ham, artichokes, mushrooms, olives, hand-milled tomato sauce
Braccio di Ferro  15
Mozzarella, ricotta, spinach, Parmigiano, hand-milled tomato sauce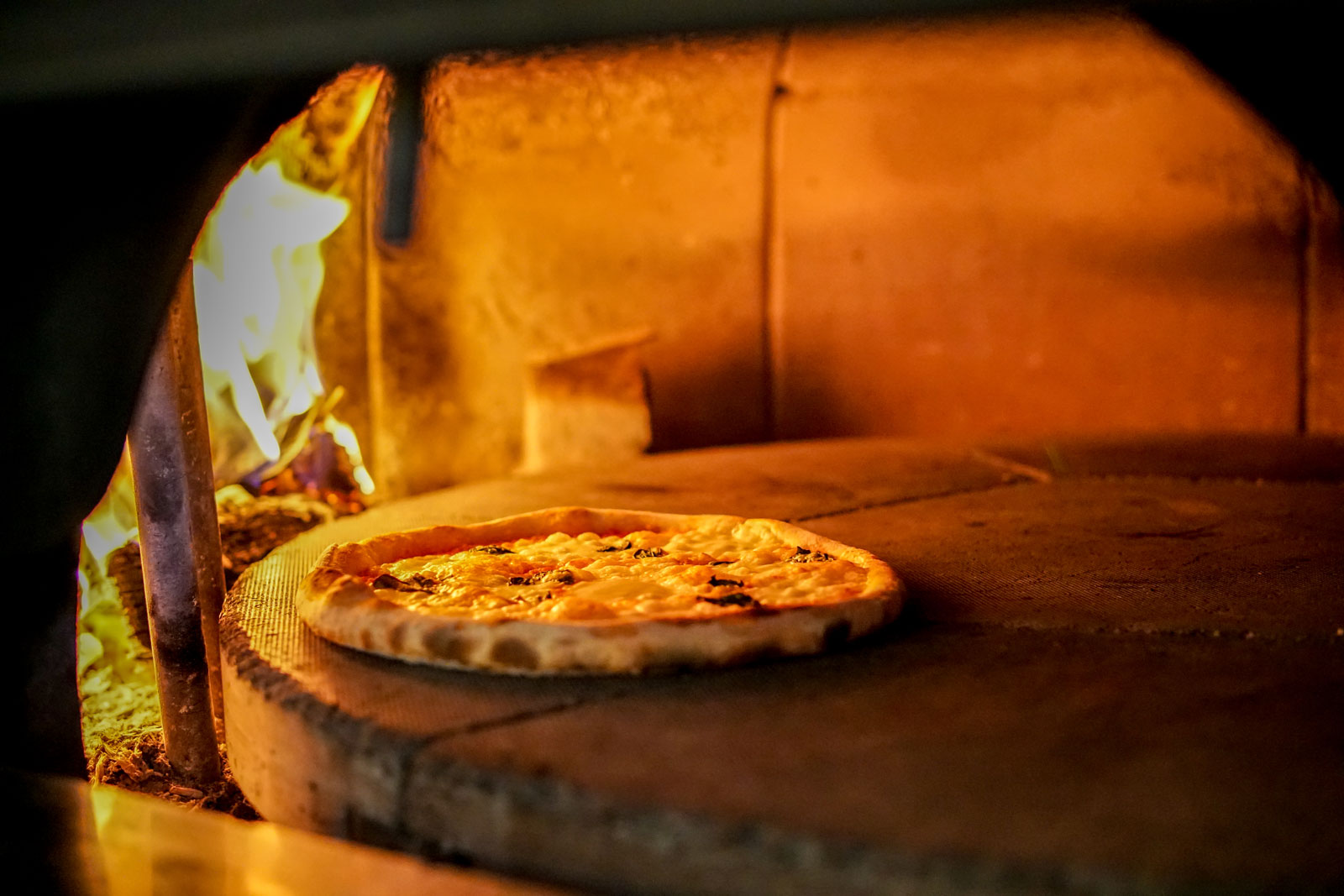 All Panini are dressed with arugula and lemon vinaigrette and served with a choice of fries, Mista or Caesar salad
Capriccio Panino  16
Tomato, mozzarella, artichoke, cotto ham, sausage, Taggiasca olives; served with a  choice of fries or mista salad
Crudo e Rucola Panino  16
Mozzarella, cherry tomato, Parma prosciutto, arugula; served with a choice of fries or mista salad
Pollo Panino  16
Belle and Evans chicken breast salad, mozzarella, grapes, walnuts; served with a choice of fries or mista salad
Pollo alla Parmigiana  18
Free range chicken breast, breaded and lightly fried, tomato sauce, mozzarella Parmigiano Reggiano; served with a choice of fries or mista salad
Vegetariano Panino  16
Mozzarella, squash, zucchini, artichoke and sun-dried tomato; served with a choice of fries or mista salad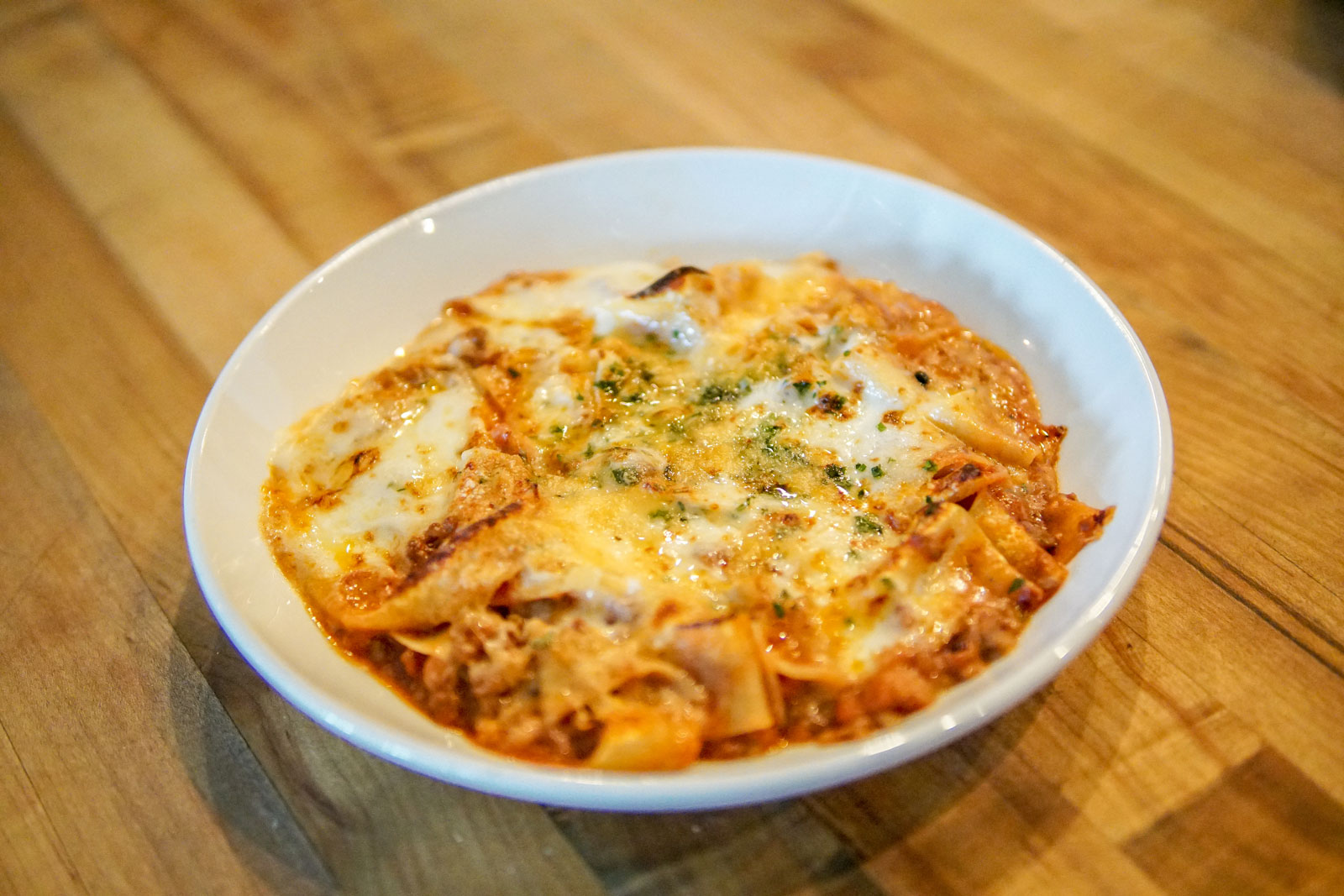 Available as an entree
Gluten-free penne pasta available upon request +4
Lasagnette alla Bolognese  15/23
Pappardelle, "deconstructed lasagna", beef bolognese, bechamel
Lasagnette alla Vegetariana  15/23
Pappardelle, "deconstructed lasagna", spinach, yellow and red peppers, mushrooms, roasted tomatoes, béchamel
Linguine del Pescatore  16/25
Mixed seafood, Calabrese peppers, tomato broth
Rigatoni alla Salsiccia  13/20
Sage, cream, sweet sausage ragu
Tagliatelle ai Funghi  13/19
Wild mushrooms, truffle oil, porcini cream
Mezzaluna ai Quattro Formaggi  14/20
Mozzarella, ricotta, Parmigiano Reggiano and fontina ravioli; tossed in garlic, tomato and basil
Cappellacci con Ricotta, Prosciutto e Spinaci 14/20
Ricotta, prosciutto and spinach ravioli tossed in brown butter, sage and aged balsamic
Linguine alle Vongole  16/24
Clams, tomatoes, Calabrese peppers, garlic, olive oil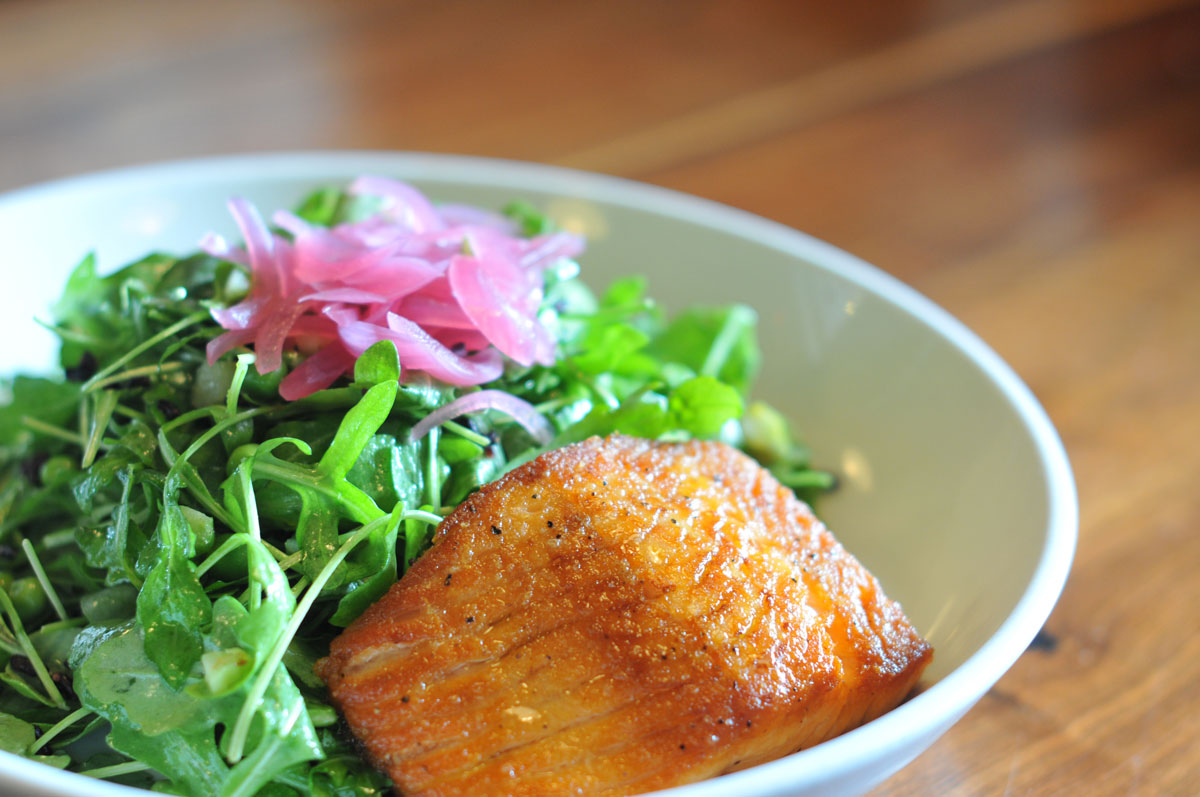 Pesce al Cartoccio  28
Clear Springs rainbow trout in parchment, roasted Yukon Gold potatoes, artichokes, roasted tomatoes, lemon olive oil
Salmone  4oz  24 / 8oz 26
Canadian salmon, Venere black rice, baby carrots, lemon olive oil
Tagliata di Manzo  27
Certified Black Angus Teres Major steak, garlic; French fries with baby arugula, Parmigiano Reggiano, rosemary olive oil – *The chef recommends medium-rare preparation

Polletto al Limone  25
Belle and Evans free range lemon chicken, French fries, onions, sautéed spinach with garlic
Pollo alla Parmigiana  23
Free range chicken breasts, breaded and lightly fried, tomato sauce, mozzarella, Parmigiano Reggiano, with side of Pomodoro pasta
Ciabatta offered upon request, please ask your server. Additional Ciabatta +3. Gluten free options are available.
Please make us aware of any food allergies. Consuming raw or undercooked meats, poultry, seafood, shellfish, or eggs increase your risk of food-borne illness.
Cake cutting fee +15.
Gift Cards are only available for purchase at Novo Cucina. Ask your server for details.