Riccardo Ullio
---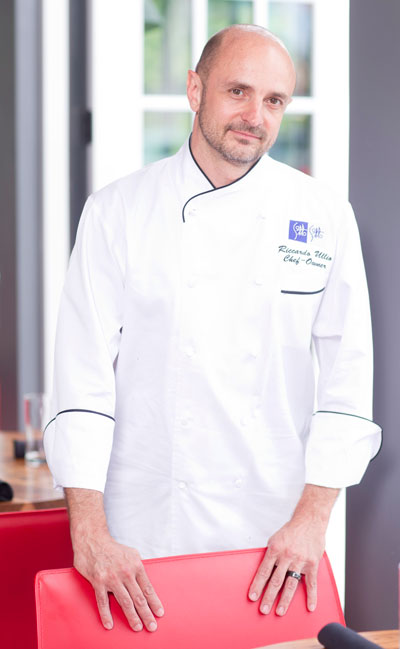 A native of Milan, Italy, restaurateur Riccardo Ullio moved to Georgia as an almost-teenager and spent his college days on Presidential Scholarship at Georgia Tech, garnering undergraduate and graduate degrees in environmental engineering. Like many students, Ullio spent a lot of time working in food service and restaurants. Eventually the restaurant "bug" bit him hard.
"By the time I finished school, I had been working in restaurants my whole life," explains Ullio. The energy, drive and sense of freedom that permeates the restaurant world was overpoweringly alluring, and he hung up his calculator for a chef's hat.
Ullio followed his culinary dreams by working in some of the most prestigious Italian restaurants around the city, including Coco Pazzo and Pricci. Taking time to travel throughout Italy to study regional Italian cuisine, he opened his own restaurants, first Pasta da Pulcinella in 1994, then Sotto Sotto in 1999, Fritti in 2000, and Escorpion in 2011. Sotto Sotto and Ullio's more casual pizza concept, Fritti, have become Atlanta's finest Italian destinations for dining, serving honest, delicious food crafted from authentic Italian recipes. Sotto Sotto creates dishes that are delicious and contemporary, while maintaining the integrity of the ingredients and honoring the traditions of Ullio's homeland. Escorpion, a traditional Mexican cantina, offers dishes from that country's heartland, along with an array of specialty tequilas.
In 2015, Ullio reimagined Italian cuisine once again with Novo Cucina, located in Dunwoody. Novo marries the culinary traditions of Italy with the ease and modernity of casual dining and an array of 18 flavors of freshly spun gelato complement the artisanal pizzas, pastas and charcuterie for which Ullio has become so well known.